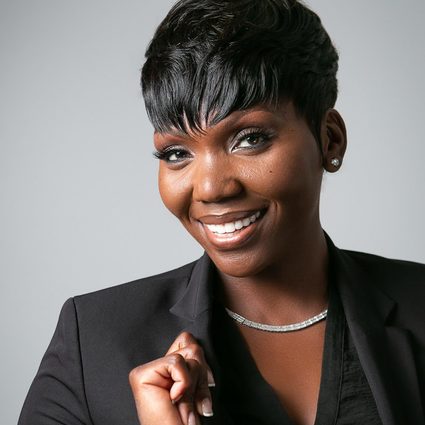 Laurane Simon
2018 Top Producer
A little about me
and why I love real estate
While many real estate professionals thrive simply off of selling houses and commercial property, she offers so much more than a home. Laurane Simon, realtor and empowerment coach, offers hope—something that many times, money can't buy. After being pre-approved for a small loan amount for her first home, Simon soon found herself distraught and denied access by many real estate professionals who didn't see her approval amount as sufficient for home ownership. However, it was because of the many closed doors—and the one open door, which ultimately led to her home ownership that she found her passion and purpose.

In the midst of being thrown into the fast-paced environment of finding a place to call home, her hobby and profession soon became one and the same. After completing real estate courses and the state examination, little did she know that she'd have to put that knowledge to use fairly quickly. One month later, when her corporate work environment became hostile, Simon resigned and ventured into real estate full-time. As a licensed realtor in the state of Florida, she finds great joy and fulfillment in connecting buyers with sellers in the South Florida market and surrounding areas. In addition to her real estate licensure, she holds a bachelor's degree from Florida Agriculture and Mechanical University (FAMU) as well as a master's degree from Florida International University.

Unlike many real estate professionals, Simon stands out in the industry amongst the competition because she successfully caters to both the natural and spiritual needs of her clientele. As an ordained pastor, she uses her gift of execution and service to usher buyers into the next dimension of their lives, offering them hope and healing in the form of a home and so much more. Known by many as an enhancement coach, she teaches women worldwide who may feel stuck to soar to higher heights, in whatever they endeavor to accomplish. Serving as the president and founder of One Hand, One Heart, Simon hosts an annual women's empowerment seminar to catapult women to their God-given destiny and purpose based on the belief that it takes one hand, to touch one heart, to change the course of an individual's life for the better. In her debut book, It's Okay to Be Single, she encourages singles to see that being single is much more of a blessing than a curse, as many in the world portray it to be.

But let's be clear. Her ministry, her service, spans far beyond the four walls of the church. Besides her work with Big Brothers, Big Sisters of Broward County and the Broward Sherrifs Restorative Justice Program, Simon also serves with the Dare 2 Care Feeding Program and the Letters to Young Girls Esteem Program. Through her passion and community involvement, she received both the Neighborhood Leadership Award from The Miami Coalition and the Rising Star Award from the Urban League of Broward County. In both ministry and business, she knows firsthand that solid, quality relationships mean much more than building a database of clientele.
Our clients are awesome
and here is what they are saying
"Laurane is awesome and knowledgeable. It is evident that she's passionate about what she does. Great experience"
Lil Sunflowershawty
Google Review
"The Pearl Realty Group was beyond helpful! They made sure that the moving process went as smooth as possible. We would definitely use them again and recommend them to friends and family!"
"The Pearl Realty Group is amazing! Everyone there was so helpful and kind. They made me and my family a priority. When I felt like giving up they were there to keep pushing me and didn't stop until I found the home of my dreams! Thank you for everything!"
"I had an awesome experience. They stood by me the entire time."
"This team was the most amazing team to work with. Speedy communication from them as well as 100% follow up. I will speak to all my associates about this A-TEAM."
"The Pearl Realty Group did an amazing job facilitating us in purchasing our first home! They have continued to help us even after we closed!!"
"I really don't know where to start because you have to have great patience to deal with my other half, and The Pearl Realty Group was the company for the job. They have phenomenal realtors, that don't push or force you into something, they take their time and do their "Due Diligence". I've already told several friends about them, and hope they use them when their time comes. Trust me when I say you won't be disappointed with this awesome team here, they go above and beyond for their clients, and they have a phenomenal team supporting their agents as well. There is no need to hesitate when you see The Pearl Realty Group!! We thank you so much for all you did to get us in our first home, and we are still in love with it!"
"Although not my first pick they stepped in and made the home buying process much easier and understandable."
"The Pearl Realty Team is exceptional! I had the opportunity to work with some of their agents and the level of professionalism and knowledge really makes a difference in getting the deals closed."
"A knowledgeable, professional, outgoing, caring group of individuals. I am looking forward to working with William Jones and his team in the near future. My husband and I bought our fix and flip through William Jones and closed in under 10 business days. The purchase contract was very detailed with extra terms clearly laid out and agreed upon in under 1 hour. Great experience, fast closing and looking to do it again next month!"
Andrea C.
Facebook Review